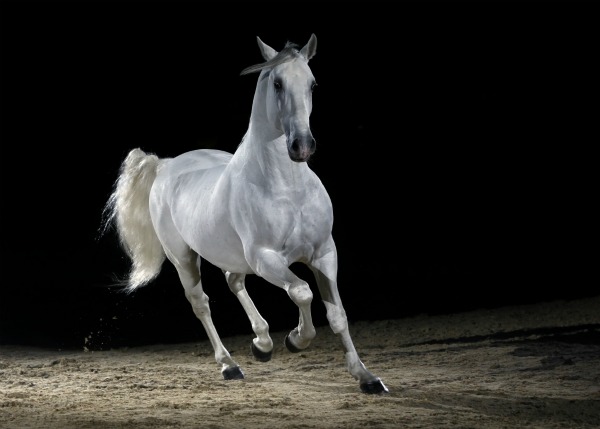 The Nice Things Customers & Others Say About


Arena Rx® "Clean Air for Horse and Rider"...

Good 4 Dirt Specializes in Equestrian, Recreational, and Agricultural Dust Control !
Environmentally Safe Solutions for Dust Control, Soil Stabilization, Surface Management and More !

Heather Mason's Recommendation...



"With the addition of my indoor arena and interior stalls, air quality became a concern. Arena Rx® has not only allowed for a dust-free environment, but also a consistent riding surface which is critical to limiting injuries when training horses for all levels and disciplines. I would strongly recommend Arena Rx® to anyone who wants an environment that is dust-free and safe for horse and rider."
USDF Bronze, Silver and Gold Medalist
"S" USEF Dressage Judge
Grand Prix Trainer/Rider
 ⊂ ⊂         ⊂⊂         ⊂⊂         ⊂⊂         ⊂⊂         ⊂⊂         ⊂⊂         ⊂⊂    
GOOD 4 DIRT NOTE:

  Earning the Title of "Champion" Doesn't Come Easy.  It not only takes countless hours of dedication and determination, it takes a special spirit. Being named "Champion" and "Horse of the Year"are honors that last a lifetime.


In 2008, Glen Emeril and Heather Mason started competing together at 3rd and 4th Levels. They had an amazing year where he finished as Champion USDF Horse of the Year at both Third s. and Fourth Level.  At the Region 1 Championships, he was Reserve Champion at 3rd Level Freestyle and Champion at 3rd Level. He also won the 4th Level Test 2 class and the High Score Pony Club Award at Dressage At Devon.
In 2009, Glen Emeril and Heather Mason competed at the Dressage at Devon CDI in the Small Tour (8th in the Intermediare I and 3rd in the Freestyle), the NEDA CDI (7th Prix St Georges, 3rd intermediare I, 5th Freestyle), the Centerline at HITS CDI (3rd Prix St Georges, 4th Intermediare I and 1st Freestyle), CDI Raleigh and Dressage At Lamplight CDI (6th Prix St Georges). He also finished 3rd at the Region 8 Championships at Prix St Georges.     
In 2010, Glen Emeril was invited to compete at the USEF/Collecting Gaits Farm Festival of Champions, where he finished 10th Overall (8th Prix St Georges, 15th Intermediare I, 5th Freestyle -http://youtu.be/9g32iN_kYDU). In the Small Tour at the Saugerties CDI, he placed 2nd in both the Prix St Georges (http://youtu.be/0jQwfuEmaDs) and Intermediare I and won the Freestyle. At the ESDCTA Memorial CDI, he was 5th in the Prix St Georges, 3rd in the Intermediare I and then won the Freestyle. He was also named to the High Performance Developing Horse List for his accomplishments in 2009 and 2010.  
In 2012, Glen Emeril just did a couple of shows in the Prix St Georges and Intermediare I, scoring 69-74%, then we made the decision to keep him out of the competition arena until he was ready to move up.
In 2013, Glen Emeril made his Grand Prix debut at a USEF Recognized show and score 71+%!
Earning the Title of "Champion" Doesn't Come Easy.  It not only takes countless hours of dedication and determination, it takes a special spirit...
And throughout the years, Arena Rx® Clean Air for Horse and Rider has been right there at Heather Mason's Flying Change Farm!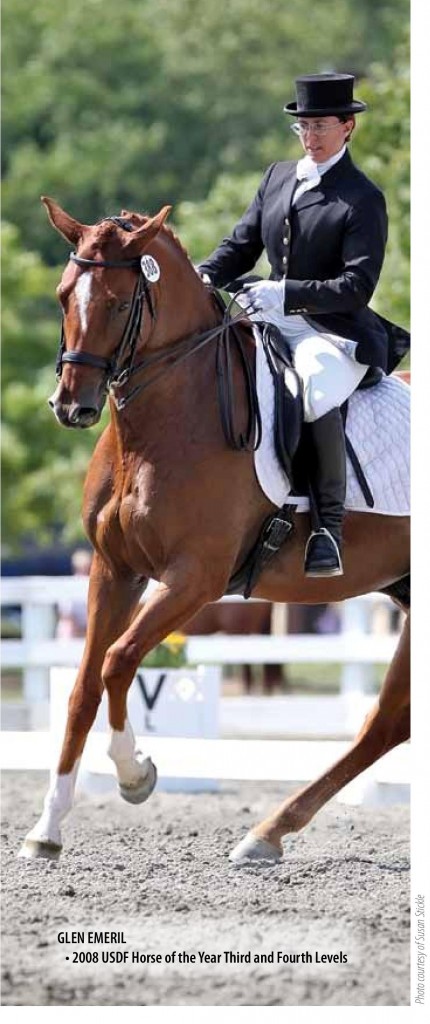 Wendy Murdoch - The Murdoch Method



LuAnn,
It is such a pleasure when I journey to Northern Colorado to  train at Last Resort Equestrian Center.  Consistency, balance and xxxx is critical to what I do and an arena treated with Arena Rx sure fits the definition of consistency.  From the first day to the last day, the footing is consistently the same.  It's wonderful to work in an arena where there is no dust.
Wendy
Jim's Note:  Thanks, Wendy!  The feelings are mutual.  It's always a delight to have you at LREC.  Jim
For more about the Murdoch Method just click the button. 
Wendy Murdoch's Website   Last Resort Equestrian Center

Julie Goodnight Natural Horsemanship Training™
Jim,
I have used Arena Rx in my personal arena for over 12 years now.  I would use nothing else.  If you want the best equestrian dust control, then you need Arena Rx.  I recently replaced my footing and I immediately called and had you make a new application to control the dust.  Thanks for keeping my arena dust free! Nothing better.
Julie  Goodnight
Jim's Comment:  Thanks Julie!  Such a nice comment.  Since 1972, I have enjoyed the Salida, Colorado area and all of its amazing amenities.  Your place at the base of the Collegiates is beautiful and so well maintained.  It's a pleasure keeping your arena dust free and healthy for everyone.   Jim  
Note: For More information about Julie Goodnight Natural Horsemanship: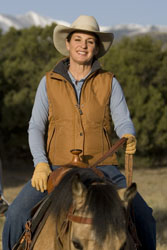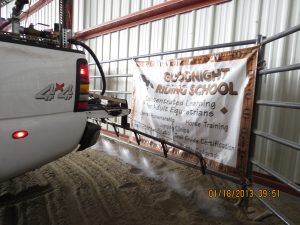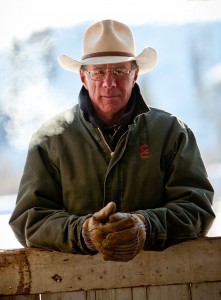 C Lazy U Guest Ranch



Jim,
C Lazy U Guest Ranch is located in the clean air of the Colorado Rocky Mountains near Grandby, Colorado.  Our 8,500 acre dude ranch is one of the premier horseback riding ranches in Colorado for vacationers from around the world.  And with  more than 180 horses to choose from our guests can find the perfect fit for their riding ability.
Our 12,000-square-foot, heated, indoor riding arena provides year-round riding enjoyment for Colorado family vacations during any season at our award-winning dude ranch.  Of course the indoor arena is treated with Arena Rx, Clean Air for Horse and Rider. Nothing but the best for us. 
Bill Fisher
Head Wrangler
Jim's Response:  My wife LuAnn and I have stayed at the C Lazy U Guest Ranch and it is absolutely fantastic!  Horseback riding, swimming, and wildlife watching in the early morning and evening are just some of the activities.  Seeing raptors soaring in the sky and the big game on the ground including an occasional moose are just some of the highlights of what you might see at any giving moment.  And the accommodations, well the rooms and dining are exceptional. It's the perfect spot.   Jim
And for those who want to know more about the C Lazy U then here is the courtesy link...
Jane and Tracy Ringolsby -
Cheyenne, Wyoming
We have used Arena Rx since 2007 for our indoor sand/rubber footing arena.  Dust control is fantastic.  It allows my husband, allergic to everything, to enjoy his time in this arena.  A year ago, we moved some of the treated footing into our outdoor arena. It has handled the winds of Wyoming.  With bone chilling cold winters, there is no concern about frozen footing either.

\
Jane & Tracy Ringolsby 
Cheyenne, Wyoming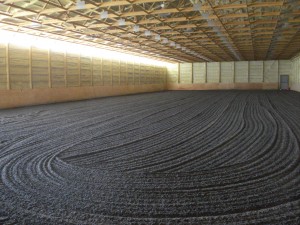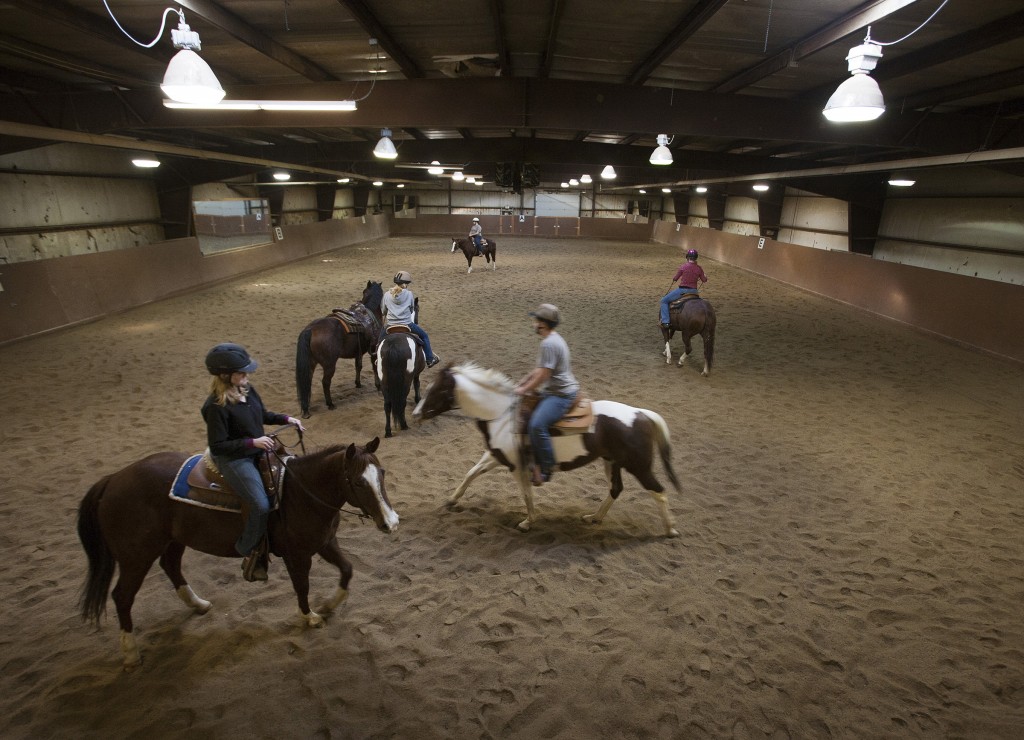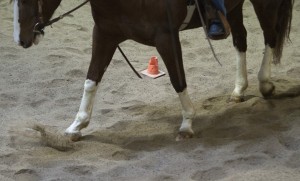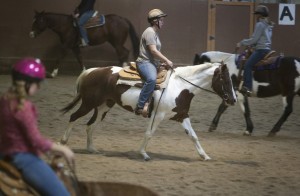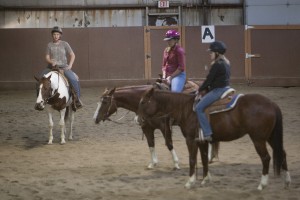 Northwest College – Marvin Sherwood, NW. College Equine Ctr. Coordinator (Powell, Wyoming)
A picture is worth a thousand words and a few pictures are worth several thousand words.  I have attached four photos of the arena you just treated with Arena Rx. If you need anything else let me know and I will send it to you. Check out the pictures… our indoor arena has no dust and it's great.  A real improvement.  Students no longer need to breathe dust!

Thanks
Marvin Sherwood
Northwest College Equine  Center Coordinator
231 West 6th Street, Powell, Wy 82435
tel: 307-754-6072
mail to: marv.sherwood@northwestcollege.edu 
http://www.northwestcollege.edu
www.northwestcollege.edu/equine
Jim's Note: for more info about Northwest College's Equine Program see Clients, Wyoming, Northwest College  or link directly to them...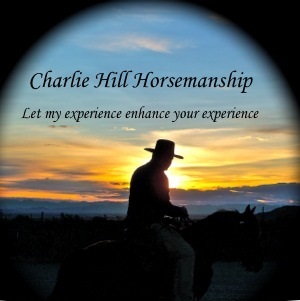 Charlie Hill Horsemanship
I was simply amazed the first time I presented a clinic at a facility that used Arena Rx to control dust!  I have been in some very dusty arenas and what a difference the Arena Rx made! 
Charlie Hill
Incredible. Wow, What A Difference! (Teresa Drummond)
Sent: Thu, May 2, 2013 9:01 pm
Subject: Thanks Jim!

>> Hi Jim,
>> 
>> I just would like to say thank you, for the now -  incredible dirt. Wow, what 
a difference! The dirt feels great, there is no chemical odor and best of all no 
dust!  Do not have to water anymore - such a time saver!   Riding in dirt 
treated with Arena RX is such a pleasure, my eyes, nose, & horse love you for 
the huge improvement in the dirt quality.  I no longer look like I've been 
riding through a dust storm. 
>> Thank you!!!
>> Hope you have a wonderful day-
>> 
>> Teresa Drummond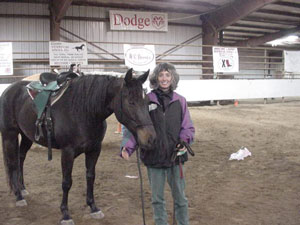 Companion Creek

Hi Jim,
Thanks for taking such good care of me!
I love my ArenaRX! Four years ago we put up 65×120 indoor arena here in Bozeman, MT. I spent a lot of time researching footing options to learn how best to reduce labor (such as watering) and dust. I ended up using a combination of sand and "natural fines" from a local quarry, about three inches, on top of a solid, packed base. Then we applied ArenaRx, and we were done! We had absolutely no dust! After about three years we added about 1/6 of the initial amount, focusing on the most traveled areas, as a preventative measure. We couldn't be happier with the results!It is so nice to never have to worry about watering the footing, especially here in Montana. All we do is harrow about twice a year, which takes just a few minutes. I'm happy for anyone to stop by and visit, or to call me on my cell at 406-581-3333.
Kind Regards,
Wendy Lessley
Companion Creek
Diane Anderson - Steamboat Springs
Jim,
I have had two arenas, one in Ohio and the other here in Colorado.  Each arena's footing was /is all rubber and I control the rubber dust with Arena Rx.  It is not slippery at all and is odorless.  
Diane Anderson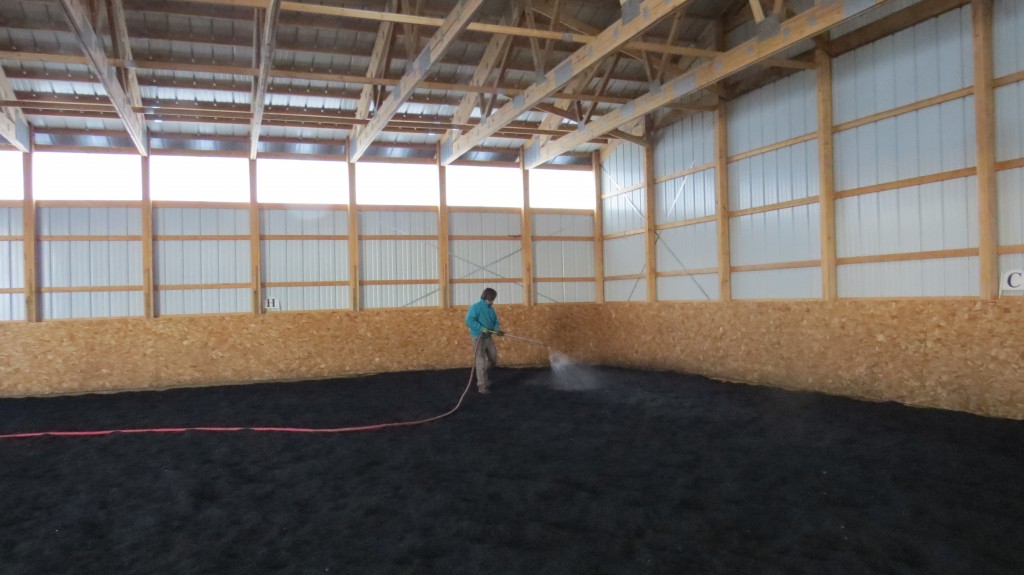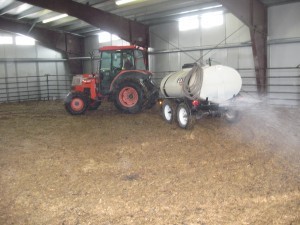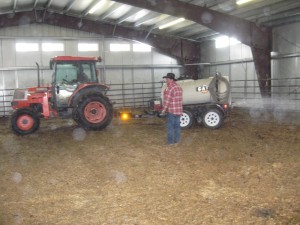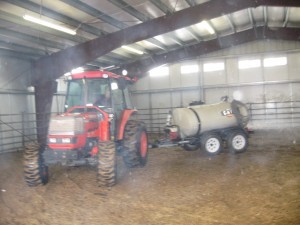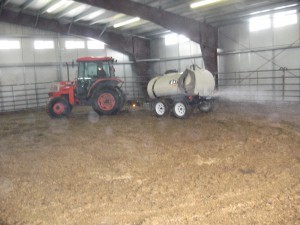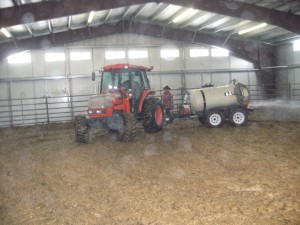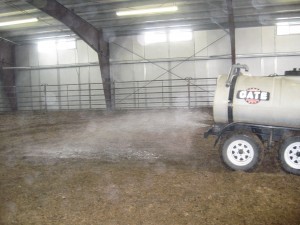 Kim Bright -Wapika Ranch
Jim –
Attached please find photos of our method of application. I had intended to use my Polaris Ranger with a 75 gal weed sprayer in the back, but the ranger is out of commission, so we used the road waterer. Not as much control, but it got the job done.
Kim Bright
Wapika Ranch
Pinedale, Wyoming
 ⊂ ⊂         ⊂⊂         ⊂⊂         ⊂⊂         ⊂⊂         ⊂⊂         ⊂⊂         ⊂⊂  
Good 4 Dirt Note:  There are many methods to apply Arena RX® "Clean Air for Horse and Rider"™! Agricultural and industrial sprayers, waters trucks and water tanks like this one, I've heard of clients using sump pumps on top of IBC totes, and I've even had clients sprinkle native dirt stalls with four dollars sprinkling cans purchased at the local big box or the local hardware store. Arena RX® "Clean Air for Horse and Rider"™ is easy to self apply and for the do-it-yourself individual, we are here to advise and provide you with information, advice and helpful hints.
Facebook Post - Carol Finger - Ft. Collins, Co. - The Arena Where We Board Has Awesome New Footing!



Carol J. Finger
Breathing easy today. The arena where we board (Last Resort Equestrian Center) has awesome new footing! They brought in a few inches of washed sand a week or so ago, gave it time to dry thoroughly (read: "dust", cough! cough! cough!) Yesterday Jim Goodyear of www.good4dirt.com sprayed the arena with Arena RX, LuAnn harrowed, and then Darren and I were able to safely ride in the arena immediately. Absolutely zero dust. Zero. No smell, no fumes, no dust. Environmentally safe, too. Wow.
Thanks LuAnn Goodyear and Jim!
 ⊂ ⊂         ⊂⊂         ⊂⊂         ⊂⊂         ⊂⊂         ⊂⊂         ⊂⊂         ⊂⊂  
GOOD 4 DIRT  – | Equestrian Dust Control, Soil Stabilization!  Always Environmentally Safe Solutions.
Tired of dust? Tired of watering every few day? Tired of lugging around and draining hoses in the winter? Tired of that cold cave-like or humid-muggy feeling after watering? Worried about using corrosive and toxic chemicals that really aren't that inexpensive after-all? Worried about other unknown?  If so then call Jim.

Nationwide toll-free at 877-592-24684 home at 970-568-7682. Our email is Arena Rx@Gmail.com and their website… Well, you're here at it… Good4Dirt.com
Over nine years ago I got tired of hauling hoses around every week to water the sand, especially in winter when they had to be drained and stored to prevent freezing.
After much research I choose the ArenaRx product and had it sprayed. Amazing, not problem with my lungs, horses lungs, feet, etc. and NO dust and I mean NO dust. NO watering. 
My arena was treated once a year and the last time it lasted almost three years. 
We just added new washed sand to replace the loss of footing and a couple of days of dust really made me appreciate the decision I made nine years ago.
Anyone who boards with me or rides in my arena can attest to this!
If you have a therapeutic center or a 4-H club or host any events this should be something you check out.
I have colts to start this spring and I will be adding sand to my round pen and getting it treated too.
ArenaRx sure makes a difference on ranch roping practice nights and does not harm the ropes.
ArenaRx is eco safe and the only one approved by the EPA.
I LOVE IT!
NOTE: LUANN IS JIM GOODYEAR'S WIFE AND OWNS LAST RESORT EQUESTRIAN CENTER. 



Bridle Bit Training
Amy and Steve LaSatz own and operate Bridle Bit Training and provide local clinics primarily in Northern Colorado.  For few years during a transition of selling one ranch and purchased another, they operated their training out of Last Resort Equestrian Center.
Obviously, Jim and LuAnn use Arena Rx.  Amy and Steve both commented numerous time  throughout the years that it was a such a pleasure to train and to contract for clinics at Last Resort Equestrian Center where the indoor arena is maintained at an optimum  level of dust control.  With an indoor spectator space and dedicated formal food preparation area, dust is something that can not be tolerated, so Arena Rx fits that bill.   
Jim's comment:  Arena Rx changed our lives.  We use to water the arena constantly, day-after-day, year-after-and then we tried Arena Rx in 2004.  Wow, what a difference.  Haven't watered it since that first application.  As we see it, many activities around an equestrian facility must be done daily like feeding, turnouts and cleaning etc.  Some tasks are done on an as need basis like mending a fence, changing a light bulb or grading a roadway.  Before 2004, dust control by watering fit into the first category as a time consuming daily chore.   Now it is definitely in the second category.  Arena Rx does not evaporate, dry out, dilute or blow away.  
Send Good 4 Dirt a Personal Message to Learn What We Can Do for You.